Writing for Fun and Profit online course

Tutor David Thorpe runs this new course that is based on successful classes run in the real world.
Who is it for?

This course is for anyone interested in telling stories. The aim is to provide a safe, constructive, encouraging environment in which you can get the best from your story, whatever it is.
How does it work?

It consists of modules with exercises. Students proceed at their own pace although the recommendation is to complete one module per week. If this is done, it should take about six months. Once the exercises are returned you receive feedback and the next module.
We spend a lot of time at the start on character and structure development because this helps to focus on what is really important in the story and the possibilities for how it will unfold.
The principles of the course are applicable to all kinds of storytelling, since they cover plot, character, suspense, dialogue, structure, imagery, pacing, and so on. These universal rules and guidelines work whether you are doing oral storytelling, writing screenplays, novels, graphic novels, short stories or stage and radio plays.
The course is delivered by email and Skype.
Here are some sample pages from different course modules. You can find some testimonies are at the bottom of the page.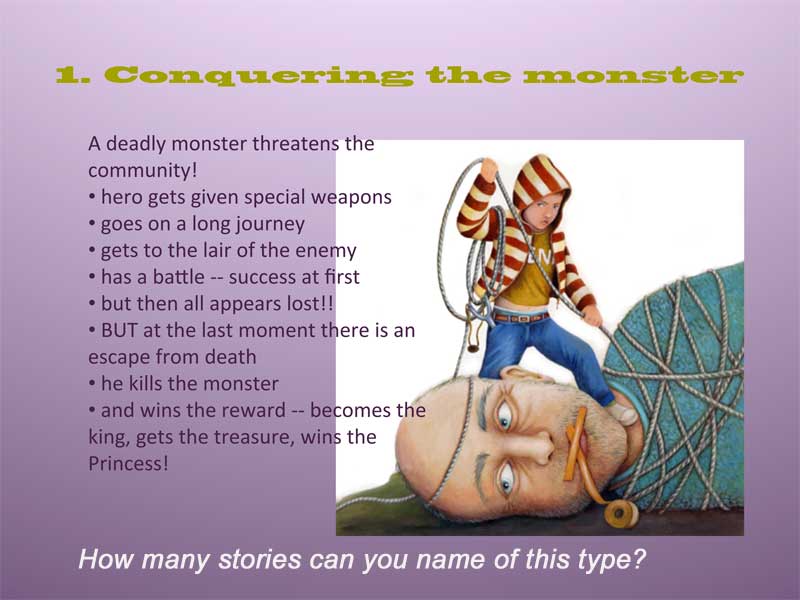 From a module on story types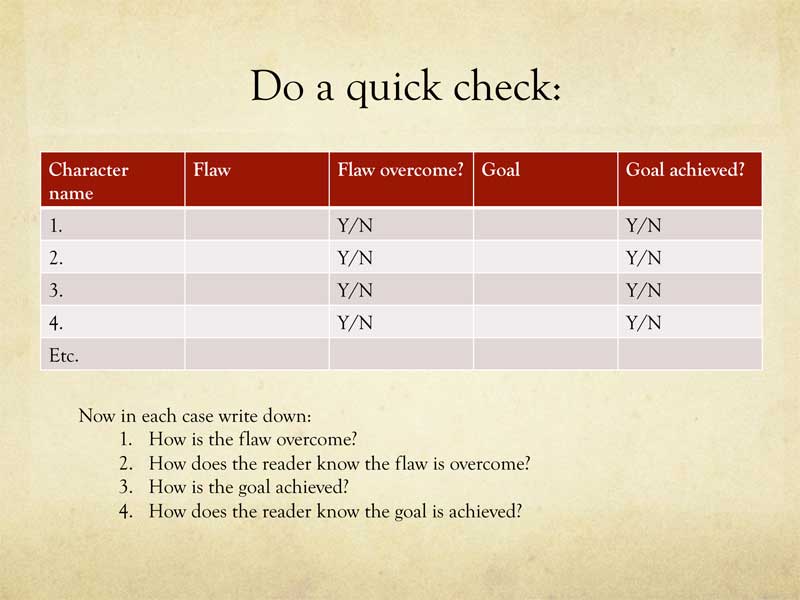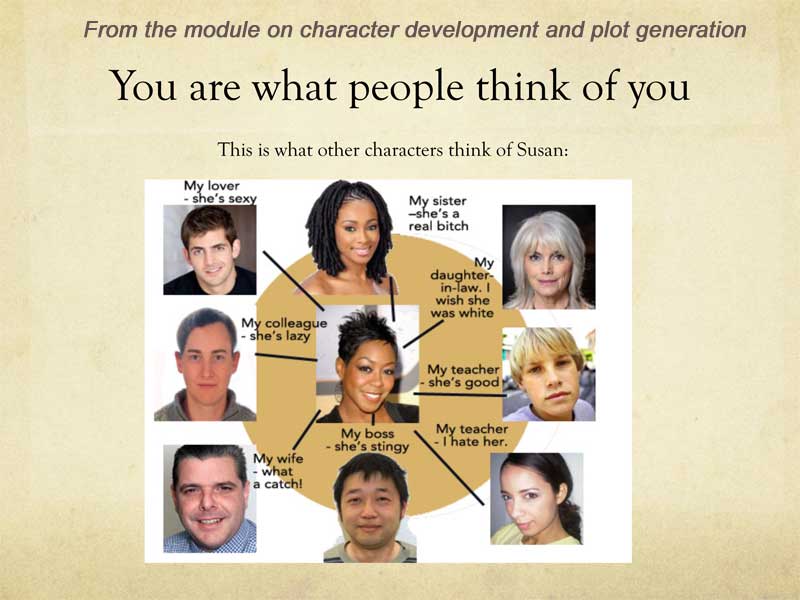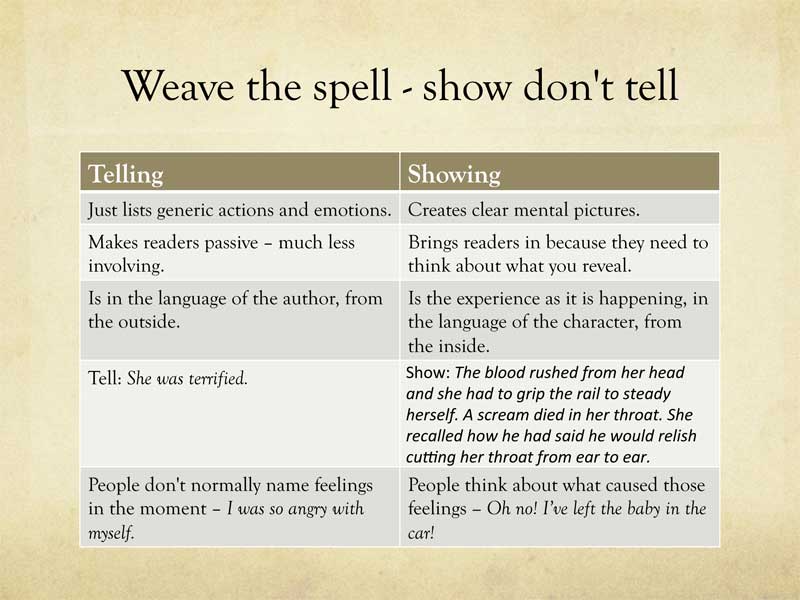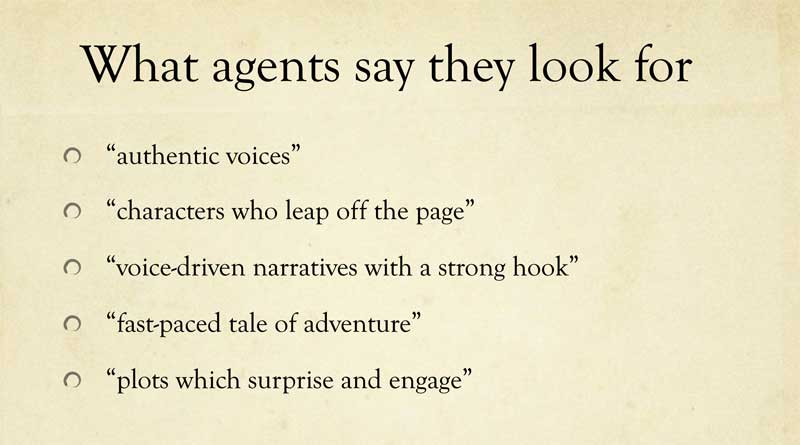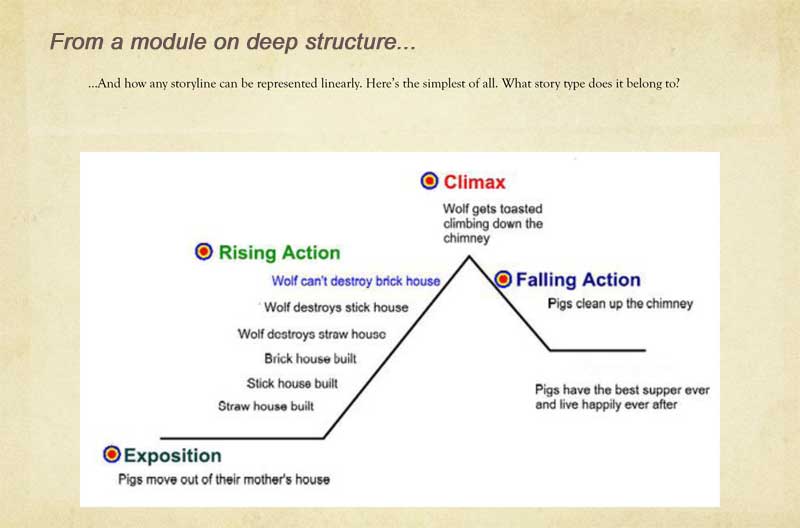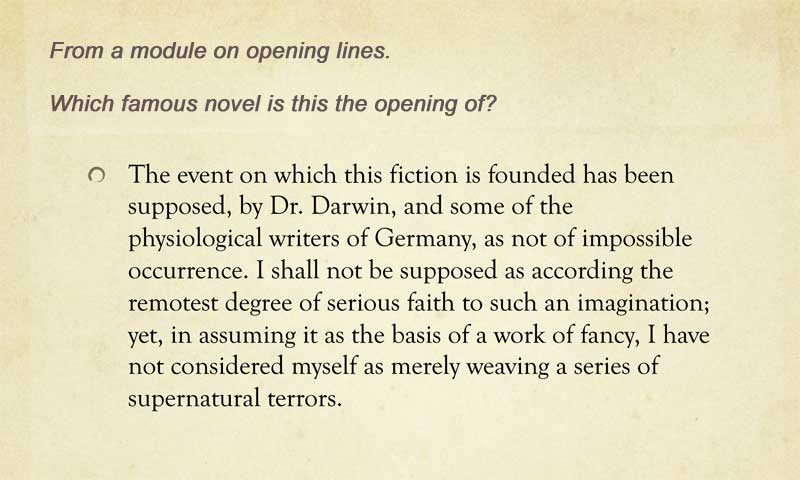 Course content

The modules are:
Storytelling and spell-weaving. The four basic plots.
Developing characters – since all stories begin with characters – and the characters' inner and outer conflicts.
The four possible endings.
The three sentence summary plus how to evaluate your idea.
Structure I: the three act structure and logline.
How characters develop storylines.
Mapping all of your character arcs using storylines.
Filling the problematic middle.
Writing the longer detailed synopsis.
First or third person? Present or past tense? The importance of attitude and style
The use of suspense.
Theme, moral and imagery.
How to construct the perfect scene or chapter.
The meaning of 'show don't tell'.
Everything is particular: the art of writing descriptive prose.
Writing convincing dialogue. What is dialogue for?
Structure II: the monomyth, the cosmogonic cycle and the 12 stage story structure.
Opening lines.
Beyond plot: slice of life, mood, etc., Alternate types of structure such as mosaic, string of beads. Allegory.
Subplots and minor characters.
Comic writing and satire.
Pacing (mood, time, transitions, flashbacks, framing devices)
Genres and 'literature'.
Endings.
Editing your work: macro scale.
Editing your work: close up scale. Formatting.
Writing for radio, tv, film.
Writing for magazines and websites.
Having completed your work:

Finding an agent or editor
Finding markets for your work
Publishing and self-publishing

Marketing yourself and your work, including the use of social media, book signings, etc.
Cost

The cost of the course is £7 per module but discounts are available. Don't forget, this includes individual feedback on your exercises.
Ways of paying:
Up front – £200.
Direct debit of £30/month over seven months.
£7 per lesson before each lesson.
Concessions: deduct 5%.
Testimonials

Comments from 'real world' students:
"I thoroughly enjoyed last week's session. I know I'm a professional in the script-writing field, but to be honest I think any writer no matter how much they've done can benefit from a 'reboot' as it were." Julian Dutton, professional tv/film comedy scriptwriter
"I lack confidence and belief in myself, you have no idea how much his support and guidance is appreciated.

David is a brilliant tutor but he does blow your mind!!

" Jacquie Hyde, writer of Young Adult fiction
"I have attended many a workshop of all descriptions in my time but yours has been one of the best. The level of challenge was really high and I don't think I've thought so hard in years. Though we were a room of people I felt you hit the nail off all of us individually." Glyn Scott.
"Thank you so much for all your teaching, most enjoyable and I've learnt a lot." Joy Daniels, playwright
"Your classes have provoked some great ideas." Sara Fox, writer of historical romance.​​
Interested?

Send an email enquiry with some information about your writing interests.
You will hear back very shortly!
The tutor

David is a successful writer of fiction for adults, young adults and older children, who believes strongly that with imagination we can change the world. He's the author of Hybrids, "a stunningly clever novel" – The Times – which won the UK HarperCollins-Saga Magazine 2006 Childrens Novelist competition.
He co-founded the London Screenwriters' Workshop and has written many short stories, TV scripts, comics and graphic novels, including for Marvel, HarperCollins, Titan Books and Macdonald-Futura.
He has also worked as a commissioning editor for various book publishers, plus as journalist and news editor, is the author of over ten non-fiction books and is a director of Cambria Publishing Co-operative.
He has a City and Guilds Further Education Teachers Certificate and has completed a City and Guilds course in Contracts and Rights. He is a member of the Society of Authors and the Society of Childrens' Book Writers and Illustrators.